WeatherMasters Will Beat The Competitions Price
Must provide a detailed estimate written within a 30 days period with same material, quantities and warranty.
The company we are price matching must be fully insured and in good standing with the Better Business Burea.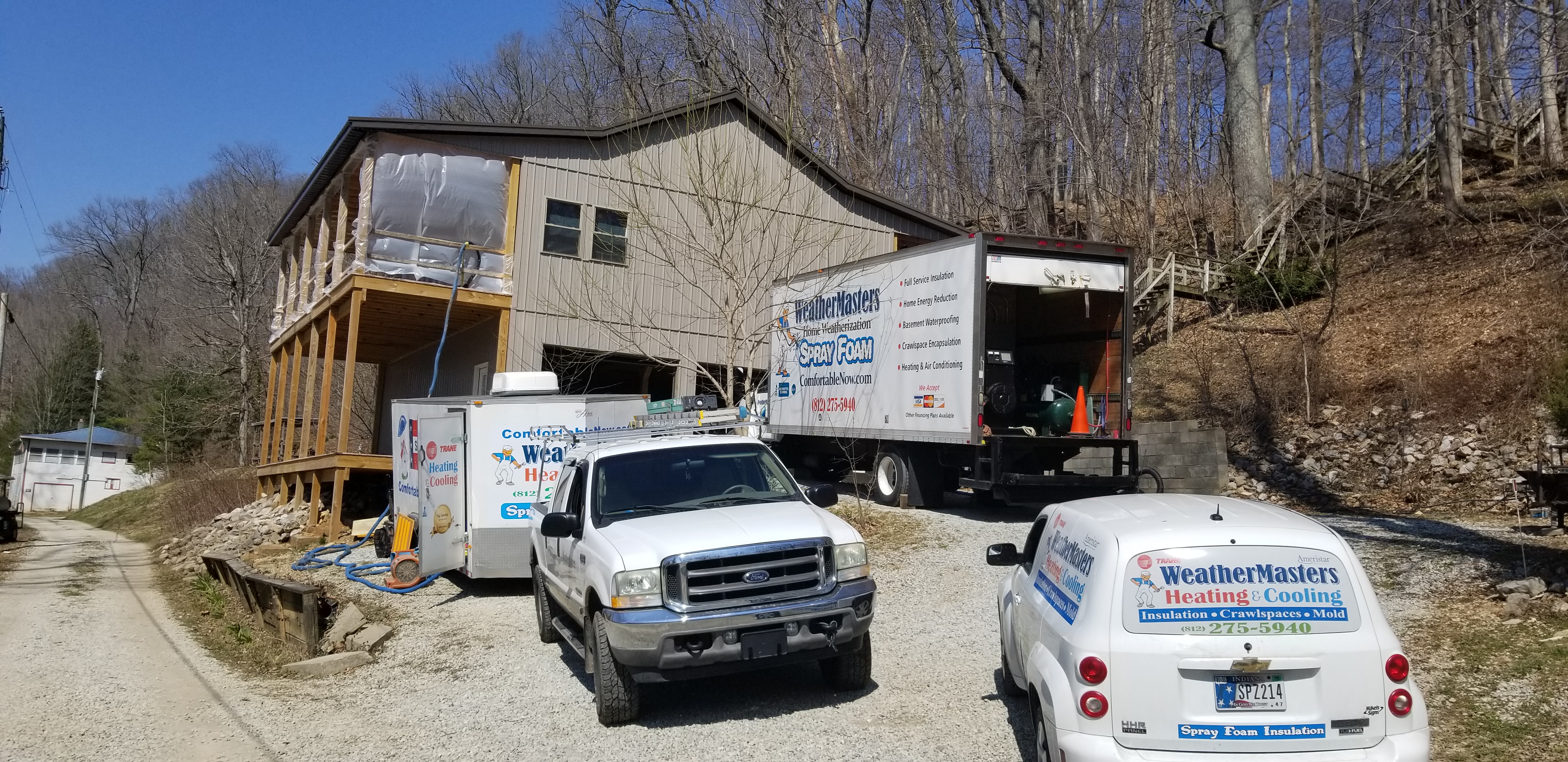 Spray foam insulation also known as polyurethane spray foam insulation is often categorized as either "open-cell" or "closed-cell". Spray polyurethane foam (SPF) is a highly-effective and widely used insulation and air sealant material. Spray foam insulation can be sprayed into walls, ceilings, floors, crawlspaces and attics to reduce energy waste and reduce heating and cooling costs in both new and existing homes.
The main differences between open and closed cell foam are moisture permeability, R-value, and flexibility. Closed cell foam is an air barrier & a moisture vapor barrier. This means that it will not allow moisture to pass through the foam. Open cell foam is an air barrier at a specific thickness but is not a moisture vapor barrier and will allow moisture to pass. The best foam to use should be determined by the application not the R-value.
Open-cell spray foam is a low-density, nonstructural insulation that offers a high yield while still providing important air isolation, versatile R-values, excellent acoustical performance. Open-cell foam costs slightly less for the same thickness but offers lower per-inch R-values than closed-cell products.
In some instances, this is a disadvantage, but where thickness is less relevant, or where higher R-values are not needed, then open-cell can provide the better choice.Because of the open cell structure, open-cell foam allows some vapor to pass through, making it a good choice to spray under roof sheathing, such as in conditioned attics, where water vapor caught between insulation and sheathing could promote wood rot.

We choose Gaco spray foam products for the reputation, durability, and for the ongoing training and support we receive from an industry leader.
Gaco Wall Foams
Gaco One Pass 2 lb.Closed Cell Foam
Gaco OnePass is the first 2 lb. density Closed Cell foam in the industry which can be installed in up to 4" passes which reduce labor costs by 50% or more and offers 20-30% higher yields than standard 2 lb. foams when sprayed in one pass at 3-4" thickness. It is Appendix X approved for use without an additional ignition barrier and meets the requirement for a Class II vapor retarder at just 0.44".
Gaco Profill Open Cell Foam
Gaco ProFill open cell polyurethane foam is designed specifically for injection into empty cavities in residential and commercial applications including CMU Block Fill projects, retrofit projects, and may be installed behind a membrane or drywall.
High R-value and seamless air barrier help reduce energy costs by up to 40%, eliminate drafts for increased comfort, and create a quieter home by blocking and absorbing airborne noise. While other injection foam insulation can leave voids, and deteriorate if not protected by an air barrier, GacoProFill is both insulation AND air barrier – and because it won't shrink, settle or sag, it will continue to provide seamless insulation, energy savings and comfort year after year.
Gaco 183M Closed Cell Foam
Gaco 183M is a Class A (Class 1) fire rated foam and is safe to the environment. It meets the requirements of Appendix X for use in attic and crawl spaces without an additional ignition barrier. As an ABAA Evaluated Material as part of an ABAA Evaluated Assembly, Gaco 183M Closed Cell Foam is approved for use in air barrier systems.
Gaco 183M is UL GREENGUARD and GREENGUARD Gold certified.
Gaco Tough Foam High Density 10lb. Spray Foam
Gaco Tough Foam is the first high-density 10 lb. spray foam in the industry to meet Class A (Class 1) requirements. GacoToughFoam is designed specifically for use in agricultural applications and uninhabited storage buildings.
Gaco Tough Foam is one part of the GacoToughFoam Agricultural System which consists of high R-value 2 lb. spray foam covered with high density 10 lb. spray foam to create an insulation solution suitable for use in poultry houses as well as dairy, equestrian, swine and other farm and ranch applications where high performance and exceptional durability are required.
Gaco Fire Stop 2 Open Cell Foam
Gaco FireStop2 is the first single-application open cell spray foam insulation of its kind that requires no additional ignition barrier to meet the requirements of Appendix X for use in attic and crawl spaces. Say goodbye to lengthy, expensive, hard-to-inspect two-step installation processes. With GacoFireStop2, just one application is all it takes – and because it's easy for code officials to inspect and pass, contractors will be on and off the job fast, with reduced legal liability.
This true half-pound foam provides higher yields for lower installed costs and improved sprayability and rise which saves time on the job. It also offers excellent adhesion and is easy to trim. Because the fire retardant is built into the product itself, GacoFireStop2 uses standard ISO, which greatly reduces your material handling costs. Plus, Gaco FireStop2 is sustainable – it contains high bio-renewable content. Gaco FireStop2 is Class A (Class 1) fire rated and safe for the environment.
Gaco O52N Open Cell Foam
Gaco 052N is a water-blown, spray-applied system that cures to a semi-rigid low-density foam. The cured product is dimensionally stable in all weather conditions and performs consistently over time. Gaco 052N is safe for the environment and is a Class 1 fire rated foam. Gaco 052N will provide good performance in a wide range of residential, commercial and industrial applications. Acceptable uses for this product include: walls, ceilings, floors, attics, and crawlspaces..