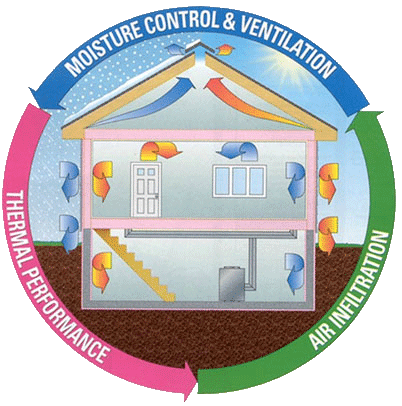 Air Sealing
According to Department of Energy, air infiltration is responsible for as much as 40% of the energy loss occurring in existing homes and buildings. One of the most important things you can do to lower energy consumption, prevent moisture issues, and ensure better building health is to have a properly sealed and vented building envelope.
Air infiltration allows humid air to enter, and with the moisture we create from within the home, with AC systems that short cycle, the steam we create from cooking, showering, washing and drying clothes, and ground vapor from crawlspaces for a few, moisture gain can collect and move to undetectable areas where building materials will rot, and mold and other fungi can form.
The photo below shows a framed opening in the ceiling between joist. This is a common method of running flue pipes, plumbing and exhaust venting between levels of the home and into attics. If left unsealed, this creates a huge stack effect where energy escapes in the winter, and warm humid air can easily enter the home during summer.