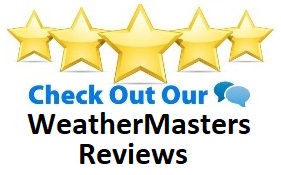 At WeatherMasters we strive for 100% satisfaction in everything we do. We value your opinion and invite you to tell us and others about your experience with us. Please take a few moments to tell us what you think by leaving us a review here on our website or on any of these popular review sites or social networks.
Read what other customers have said about us.

All trademarks or brands on this page are registered by their respective owner and are not affiliated with our company, nor do they endorse or sponsor our products or services.
Reviews of
WeatherMasters
(Based on 17 rated reviews)
16-Dec-2017
It was a great blessing when I got weathermasters to insulate and seal up my home. My home was one of the most complicated homes there is to insulate and still up but they came in, they new what to do and got the job done right. Plus they installed a brand new furnace and ran all the duck work got the air and the returns operating right and cut my heating bill down. Now my home is more valuable and more comfortable. Thanks weathermasters
New furnace and insulation
15-Dec-2017
Their work made my home made my home more comfortable. They installed a new furnace and insulated my home. The workers were polite and efficient.
Albert Bruckelmeyer
Bloomington
14-Dec-2017
WeatherMasters is a very reliable company. They always call ahead to let you know what time and day they will be there. They installed a furnace for me and did an excellent job. They was very polite and they covered my carpet and run a vaccum when they was finished. I would recommend them very highly.
Sandra Skillnern
Bloomington, IN
Thanks for the great work
13-Dec-2017
I had my home air sealed and insulated two years ago, and I can say it's warmer than it has ever been and my utility bills have gone down. I'm just so thankful I had this work done by such a great bunch of guys. They really took care of me!
Marylin Paxton
Bloomington
10-Dec-2017
I talked to a couple of companies about insulating my home and found WeatherMasters cared about doing the job the right way. They didn't try and sell me on more than I needed and the work turned out to really be as they said it would be. My electric bill went down last summer and I can already tell I'm more comfortable as winter is here.
I would recommend WeatherMasters to me closets friends and family.
05-Dec-2017
They Will Make Your Home More Comfortable. They Can Do Just About anything you need. Fast ,,Professional, reliable. Give them a Call Today. They are the Best of their Kind out there! Call Phil . 812-275-5940
Robin Concannon
Bloomington
23-Nov-2017
You don't run into companies like Weathermasters everyday. They are hard to get out to give estimates, but I can see why they stay busy. The owner was helpful and the crews were great to have at our home.
It's been a year now since they installed a new heat pump and furnace, put new vapor barrier in the crawlspace, insulated the crawl and attic and my home is so much easier to heat now. I used to have small heaters in a couple of rooms, but don't need them now. I leave the thermostat at 68 and the home is very comfortable and the furnace doesn't run all the time like it used to. The crew was so pleasant to be around, I hated to see the guys go.
15-Nov-2017
Product or service reviewed: New furnace and insulation
We called to get a price on a new furnace and everyone we talked to wanted to sell very expensive equipment. WeatherMasters didn't, but what they did tell me made a lot of sense. Our home was built in the 50's and it had the original insulation in it, and they told me if that was changed out, my home would be more comfortable and cheaper to operate. Well they reinsulated the walls and ceiling and installed a less expensive furnace and we couldn't be more please with the improved comfort and the savings we're seeing on our bills.
William Kinser
Bedford, IN
12-Apr-2017
Great Job! They were courteous, respectful, customer oriented professionals. They went above and beyond! Both owners of the business care about what they do and they aim to please. They inform you if they can't meet your expectation, or if what you want isn't what they can provide. The techs were great to work with and I was impressed with their cleanliness and their attitudes. They worked late into the evening to complete our job. I bought home pizza for them one evening and the guys were more than appreciative. Not something I do for contractors often but they were really working hard to please us and they deserved a break. I would highly recommend this company!! ONLY negative would be in how difficult it is to get on their schedule, but believe me when I say don't give up because the time is worth the money you will save on your heating/cooling bills! This is not an insulation company, it's a weatherization company, much more effective.
14-Sep-2016
I had Weathermasters insulate my attic. We had a miscommunication and some problems at first and I called them back to ask them to take care of the problem. The came and and finished the job to my satisfation. Thier follow-up and efforts to satisfy the customer are excellent. Jason did the follow-up work. He is personable and attends to details. He is an outstanding representative for the company. I recommend WeatherMasters to anyone who needs their serices. Thank you WeatherMasters!!
12-Aug-2015
WeatherMasters is a very good company. I called about getting my home insulated and in the initial meeting with them, I did not feel like they were trying to sell me. They were very good at explaining what they found, I learned things from him that I didn't get from other people I talked with, and after the work was done, I was impressed with the improved comfort of my home.
I can't thank the team at WeatherMasters enough for the excellent customer service, knowledge and expertise they provided. They helped me find the right system and converted an older home without a central heating and cooling system at an affordable price with a state of the art energy efficient system as well as deal with moisture problems in an unfinished basement. Not to mention finish on time as promised. I will definitely be using them again in the near future and recommend anyone in the area contact the Masters as they have a wealth of knowledge.
I have used this company and they have treated me very fair. If I ever need insulation work or heating and air work this will be the company that I call. It's nice to know there are still good honest companies out there.
Our home has always been very drafty during the winters. The furnace kicks on and off constantly, and the AC never seems to shut off during the summer. We called different companies to get help with our problem, and it was obvious WeatherMasters has a better understanding of making homes energy efficient. The other companies just wanted to sell us insulation! It's been three years now since we had this work done to our home, and it's like living in a different home!
We had WeatherMasters insulate our attic in our home. They were professional from start to finish, and the final cost was less than what they estimated it to be. Who gives money back??
We were so pleased we had them install a new heat pump and furnace in our new home, and again, the guys worked great together, professional and fun to be around even after putting in long hours to do our work.
WeatherMasters is a company that you can trust!!
Claire Mullis
Bloomington, IN
It was a little frustrating trying to get WeatherMasters to give me an estimate, but on a friend's advice who said "you need to get these guy" I waited, and I'm very glad I did.
Now I can see why they are busy, because they did a hell of a job. They had people working in the attic air sealing and installing venting, Guys working on a lift to insulate the second story, and a fellow doing the same from the ground. They had men working in the crawlspace installing a sump pump, and encapsulating the whole crawls, and repairing vents.
I thought this would take at least a week, and it took a day, and before they finished, they had a furnace tech stop by and clean and tune our furnace for FREE!!
Phil told me if I would do a review of their company, and to be honest about it, so I am. They need to get bigger to handle more calls and more customers.
I called other insulation companies to get my walls insulated, and got several prices. I met with Phil from Weathermasters and he said my walls were already insuled and it would be hard to get more blown in. I told him my floors were cold and I thought there were some registers that come apart because I couldn't get very much heat to certain rooms.
What he found was my ducts were unsealed and uninsulated, plus I had very little insulation in my attic. They air sealed and run the blower door, so I could see how tight they got my house. The ducts put out so much more heat now and the whole house feels more comfortable. My ultity bills have gone down for the last 2 years since they did the work.
The hardest thing about dealing with WeatherMasters is getting them to call you back for an estimate. I heard good things about them and after speaking with them on the first call I figured I needed to have someone look at it that might not try and over sell me. I thought I needed and new heating and cooling system, and I got quotes ranging from $7,000 to $11,000. WeatherMasters didn't want to sell me a new system and told me my exisitng units should last another 5 years, and the problem wasn't with the size of it, it was with the air passing through my home and the old insulation that just wasn't effective enough. $4,500 it cost me for the air sealing, new insulation in my attic, the walls, and the air duct sealing they did, my home is now so different and my heating bills dropped $100 a month over the year before. Now my furnace doesn't kick on right after it just shuts off. They know what they're doing, and they have such a nice group of people working for them.
I had Weathermasters look at the air conditioner in my attic that leaked for a year before I finally got it fixed. I had others AC guys out who said they fixed it but didn't. Mike from WM said they were just going over a crack in the pan with silicone and the water was softening it over time allowing it to leak again.
He added a secondary drain pan under the unit with a new drain line and didn't hit me with a large bill like the other companies did. They said, just spread the word so I am doing just that. They are a good company!